Overclocking
Written by Admin
Tuesday, 22 February 2011 04:24
miahallen looks at a midrange Sandy Bridge motherboard from Gigabyte.
Gigabyte has been on a role in the last few years with their mid-range lineup of motherboards, specifically the UD3 and UD4 series, have a huge following and are highly regarded within the community.  They have earned their spot for good reason too, and the value pricing combined with top notch overclocking capabilities have been a tough act to follow.  With the release of Intel's latest platform, will the Gigabyte mid-range hold onto it's competitive edge? 
Gigabyte P67A-UD4 – Overclocking On A Budget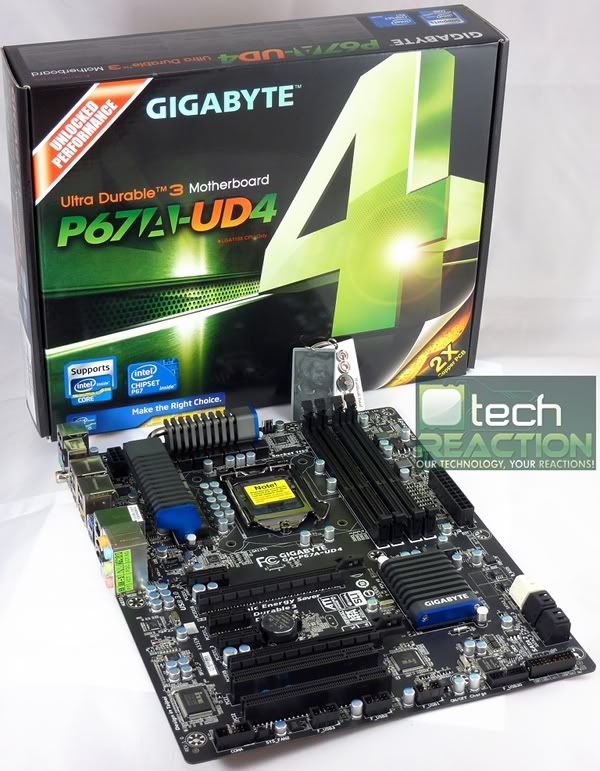 Written by Admin

Tuesday, 22 February 2011 04:19

The two top motherboards for the Sandy Bridge platform on release day were the Asus Maximus IV Extreme (or "MIVE" for short) and the Gigabyte P67A-UD7...miahallen investigates the pair, and declares one of them the victor!

If you haven't already seen our complete Asus Maximus IV Extreme (MIVE) motherboard review, Parts ONE and TWO, you're missing out. Part 1 covered synthetic testing with the i7 2600K CPU at 5.1GHz to give an idea of the power that this platform contains. Part 2 was a full blown comparison between X58 and Sandy Bridge, with a helping of AMD Thuban for good measure. We also awarded the MIVE the TechREACTION.net Gold Silicon award for its outstanding performance.

Today, we'll give you a look at another top P67 choice; the Gigabyte P67A-UD7. Currently it is the top choice for Sandy Bridge users looking for Gigabyte flavor in their builds. This will be a true head-to-head comparison between the two motherboards' performance, overclocking, and ease of use factors. All of these things are important for enthusiasts in this market, so with luck, Gigabyte will meet and exceed our expectations in regards to these features with the UD7.

Gigabyte P67A-UD7 VS ASUS Maximus IV Extreme – Battle of the Titans!

Written by Admin

Tuesday, 22 February 2011 04:15

miahallen takes a look at the new G2 series value overclocking memory from Patriot.

For years, I have always been most drawn to value and mid range components with good overclocking potential, in order to extract high end performance, for a fraction of the cost. Having strayed into the extreme end of the spectrum, this often is no longer a viable option for me, as the high end gear is required for top overclocking scores. But for systems I build intended for daily use, I always seek high value hardware.

Patriot G2 Series 4GB DDR3-1600 – Value DDR3 for Overclockers

Last Updated on Tuesday, 22 February 2011 04:18

Written by Admin

Friday, 14 January 2011 16:10

miahallen just completed his latest review with tons of great info for people looking at a new Sandy Bridge based system:

"In this review, I've dug much deeper into the Maximus IV Extreme and exploited its full potential with single, dual, and triple SLI configurations.  I've included a much more thorough testing regime to better gauge the real world performance potential in this platform, and drawn full conclusions to better help you with your buying decisions.  So is Sandy Bridge right for you?  Do you need a Maximus IV Extreme?  These are all good questions, read on for the answers."

Sandy Bridge VS The World (Part 2/2)

 

Written by Admin

Tuesday, 04 January 2011 15:08

miahallen just finished his first article for the new Sandy Bridge platform, and puts it through its paces on a top end offering from Asus...

"My subject today is the new Asus Maximus IV Extreme, a Republic of Gamers ("ROG") branded model which represents the top-end of the P67 offerings from Asus.  As always, they've managed to pack an overwhelming number of technologies and features into this product and it's my goal to give you honest feedback based on my experience."
<<

Start

<

Prev

1

2 3 4 5 6 7 8 9 10 Next > End >>


Page 1 of 12